How to fake the famous fixer upper style of Joanna Gaines?
Well, there are some elements and tricks that can help you to create the loved "fixer upper style" in your home even if you don't live in the countryside.
Here you are some useful suggestions to reproduce it.
Use wood, not only hardwood floors but combine in the home a lot of wood furniture of warm tones.
The entryway must be an inviting space with a rustic finishing and some smart storage furnishing.
 Neutral colours are the "must" throughout all the home (whites, greys and creams).
Family room + kitchen. Create a unity between living room, dining room and the kitchen. It's fantastic to keep friends and family members as close as possible!
Up-cycle and use of vintage furniture. If you are renovating your home don't throw away old furniture but think to reusing it or re-purposing some items. This elements make unique and really cozy your home. Furniture that has a history and speak for themself really give a focal point to each room.
Kitchen must be the classic white full of farmhouse spirit (open shelves with plates and coloured bottles).
"Quotables" elements hanged on the walls add your personal touch (be careful of the meaning)
The fireplace is the focus of the sitting room and reflects the rustic simplicity of the farmhouse.
The master bedroom is simple and symmetric. You  have to design and decor it with a touch of shabby chic style: neutral colours, a comfortable armchair, two simple side bed tables of wood.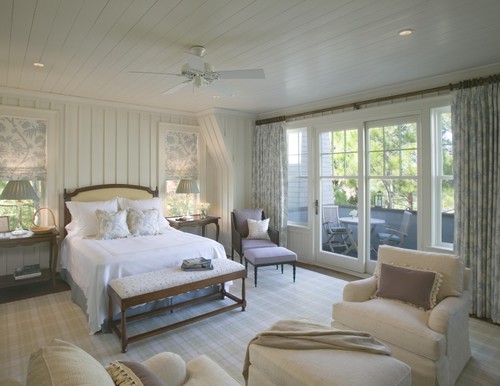 The tube! Don't forget tu put an old style tube in the bathroom…
Add metal elements in the home like metal chairs in the kitchen or some industrial lamps throughout the home.